The Japanese-Language Proficiency Test, or JLPT, is a standardized criterion-referenced test to evaluate and certify Japanese language proficiency for non-native speakers, covering language knowledge, reading ability, and listening ability
Advantages in Japan
Earn points for preferential treatment for immigration to Japan
Those who pass JLPT N1 receive 15 points, N2 receive 10 points under the government's "Point-based Preferential Immigration Treatment System for Highly Skilled Foreign Professionals." Individuals with a total of 70 points or higher receive preferential treatment at immigration.
One of requirements to take Japan's national exams for medical practitioners
A JLPT N1 certificate is required for medical practitioners licensed overseas who want to take Japan's national exams for medical practitioners, and other professions.*
For more details on application requirements for national exams for medical practitioners, please refer to the Ministry of Health, Labour and Welfare website (Japanese).
*Other national exams that require a JLPT N1 certificate as part of application:
Dentist, nurse, pharmacist, public health nurse, midwife, radiology technologist, dental hygienist, dental technician, clinical laboratory technician, physical therapist, occupational therapist, orthoptist, clinical engineer, prosthetist, emergency medical technician, speech therapist, veterinarian
One of requirements to take Japan's prefectural exams for assistant nurses
A JLPT N1 certificate is required for overseas nursing school graduates who want to take Japan's assistant nurse exams.
Exams for assistant nurses are administered by each prefecture. For more details, please contact the prefecture of interest.
A test subject is waved on accreditation exam for completion of junior high school level education in Japan
The Japanese-language test is waved for examinees of foreign citizenship who pass JLPT N1 or N2.
For more details, please refer to the Ministry of Education, Culture, Sports, Science and Technology website (Japanese).
One of requirements for the nurse/caregiver candidates under the EPA
Under the Economic Partnership Agreement (EPA) with Indonesia, the Philippines, and Vietnam, a JLPT certificate is required for Indonesian, Filipino (approximately Level N5 or higher), and Vietnamese (Level N3 or higher) nurse or caregiver candidates who visit Japan.
Introduction
The Japanese-Language Proficiency Test (JLPT) has been offered by the Japan Foundation and Japan Educational Exchanges and Services (formerly Association of International Education, Japan) since 1984 as a reliable means of evaluating and certifying the Japanese proficiency of non-native speakers. At the beginning, there were approximately 7,000 examinees worldwide. In 2011, there were as many as 610,000 examinees around the globe, making JLPT the largest-scale Japanese-language test in the world.
Over time, test applicants have become more diverse, and use of JLPT results has expanded from skill measurement to include employment screening and evaluation for promotions and pay raises as well as use as a form of qualification. Many outstanding suggestions for improvement were also submitted by a wide variety of individuals around the world.
To ensure the continuing relevancy and accuracy of the JLPT, the Japan Foundation and Japan Educational Exchanges and Services introduced a revised version of the test in 2010. This new test takes full advantage of the most advanced research in Japanese pedagogy and testing theory, and reflects the vast wealth of data accumulated since the original JLPT was launched over 25 years ago.
Objectives
The JLPT will be held worldwide to evaluate and certify proficiency in Japanese of non-native speakers.
Measures communicative competence required to perform tasks
The JLPT places importance not only on (1) knowledge of Japanese-language vocabulary and grammar but also on the (2) ability to use the knowledge in actual communication. In order to perform various "everyday tasks" that require language, not only language knowledge but also the ability to actually use it are necessary. Therefore, the JLPT measures comprehensive Japanese-language communicative competence through three elements: "Language Knowledge" to measure (1), and "Reading" and "Listening" to measure (2).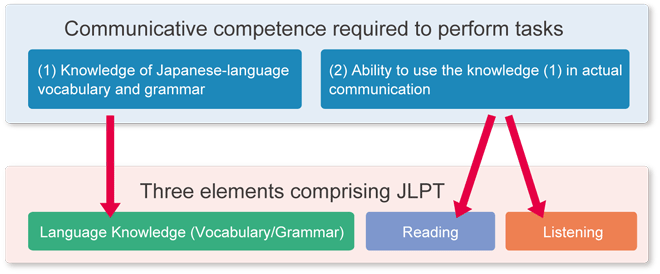 Due to the large scale of testing, answers will be machine-scored. Note that the JLPT does not include sections to measure speaking or writing proficiency directly.
Select a suitable level from among five levels
The JLPT is offered in five levels (N1, N2, N3, N4, N5). In order to measure Japanese-language proficiency as thoroughly as possible, test items are designed for each level.
N4 and N5 measure understanding of basic Japanese that is mainly learned in the classroom. N1 and N2 measure understanding of Japanese used in a broad range of actual everyday scenes. N3 bridges the gap between N4/N5 and N1/N2.
More accurately measures Japanese-language proficiency with scaled scores
Despite the best attempts to assure consistency, it is inevitable that the level of difficulty of the test will differ slightly from session to session. Using "raw scores" (based on the number of correct answers) could result in different test scores for individuals with the same ability, depending on the difficulty of tests. Instead of raw scores, the JLPT has adopted "scaled scores." Scaled scores are based on the equalization method and allow measurement on the same scale regardless of time the test is taken.
Scaled scores enable the JLPT to more accurately and fairly indicate Japanese-language ability at the time of testing.
"JLPT Can-do Self-Evaluation List" is offered
Test scores and pass/fail results alone do not clarify what students can do in Japanese in real life.
For this reason, the JLPT offers "JLPT Can-do Self-Evaluation List" as a reference to interpret test results.
A question survey regarding "what activities are considered possible in Japanese" was conducted with approximately 65,000 examinees of the 2010 and 2011 JLPT. The results were analyzed and the list was prepared.
The list can be used by examinees and others as a reference to get an idea of "what successful examinees of a particular level can do in Japanese."